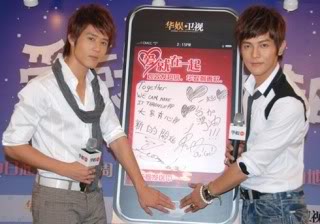 Source SINA
Translated by Elvenstar @
http://asianfanatics.net
Rainie Yang, Jiro Wang and George Hu who star in the idol drama "ToGetHer", on August 20th the drama will start broadcasting on CETV. Before the day of the broadcast, Jiro Wang and George Hu appeared in Guangzhou to do promotions for the new drama. When asked if he would take it one step further with "couple face" Rainie, Jiro openly admitted that he thought they both had a "Sibling face", exposing their future relationship, making people anticipate their future .
During the filming of "ToGetHer", Jiro and Rainie had non-stop rumours of ambiguous love. Previously, Rainie openly publicized that she had been praised to have a "couple face" with Jiro. Asking whether or not if there is a chance to take things further, and in the future would he choose Rainie as his other half, Jiro was a bit hesitant and in the end replied that the future can not be foreseen, making people anticipate a future relationship with Rainie. But Jiro has also said that Rainie looked similar to his cousin, so rather than saying they have a "Couple face" why not say a "sibling face". The most worthiest reason to make Jiro happy should be that while working with Rainie they had got on very well and also in private they could go out to play.
When talking about their collaboration in ToGetHer, Jiro praised the storyline was very good, calling Rainie the "Cinderella" who meets the failing superstar and unexpectedly ends up living together and falling in love.
Urging everyone to put in effort for the Taiwan flood appeal
Typhoon "Morakot" has been Taiwan's most severe flood. During the conference, Jiro and George were still far away in Guangzhou but when the flood was mentioned they where extremely upset. Both of then through a "compassionate SMS" wrote down separately their blessings to the victims and also the appeal for more aid, also hoping that their appeal will help spread their love out. Jiro appealed to people to make their small love into great love and also to help out the disaster areas. According to Jiro, he revealed that Fahrenheit for the disaster area held a compassionate charity auction, raising enough materials to fill 3 big trucks. Apart from that, he will also personally donate money as well. George Hu also expressed that when he is free he will go help, because seeing Jet Li appear to help at the site of the disaster he also felt very emotional.
Yay. Together is finally on TV. Um. I don't think Jiro and Rainie look good together. Actually its kind of weird for me. Lol.