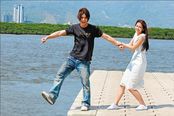 Source: Liberty Times
Translated by catalie @
http://asianfanatics.net
To support colleague and good friend Tank, "Da Dong" Jiro Wang didn't hesitate to "sacrifice his life" in a MV, acting out a death scene for the first time. Tank thanks Da Dong for giving up his "life", specially bringing a leg of pork to the set beforehand so help Da Dong regain his luck. He also gave Da Dong a $NT6600 red packet for luck.
Seaweed sticks to his handsome face, making Kimi Ren laugh
Tank will be releasing his new album "The Third Round" soon and for the MV of one of the new songs 如果我變成回憶 [Ru Guo Wo Bian Cheng Hui Yi] [If I Became A Memory] he invited Da Dong and Selina's younger sister Kimi Ren to act as the two leads. Da Dong said, "Acting as a couple with Kimi Ren, there's a first love type of feeling!" Even though they didn't have any very intimate kissing scenes, etc. they still really enjoyed working together.
Furthermore, Kimi Ren praised Da Dong's acting skills, saying, "He really knows how to lead the acting and how to make funny facial expressions. In one of the scenes, he has a piece of seaweed stuck to his face and he's meant to make a funny facial expression; even without acting, he was hilarious."
Concerned about heart disease developing, no way to accompany lover
Tank himself suffered severely from heart complications so this song is almost a representation of how he felt. In the MV, Da Dong acts as a guy with heart disease and in the end, he passes away because of it, leaving Kimi Ren to keep the promise they made when they were lovers, alone.
Da Dong's semi-lunar cartilage peeling on his right knee hasn't completely recovered but to act out scenes in the MV where he had to climb up stairs, he still very professionally agreed to go with it, running from the first to tenth floor in one breath. In order to protect his knee, each time they finished filming, he would apply ice to his knee. He joked with Tank saying, "This way, I've definitely supported you enough!"
Tank has lots of emotions while singing this song, he often says, if he dated someone, he could accompany his girfriend for a few years of birthday but he's afraid that because of his heart condition, he wouldn't be able to accompany the one he loves for a lifetime.