Source: UDN, Liberty Times
Written by: fufu on 9/04/2010 @ CpopAccess.com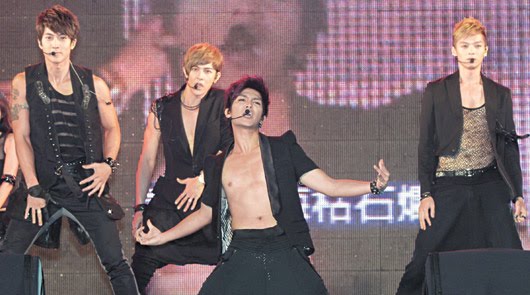 Following the footsteps of Jpop and Kpop idols, Fahrenheit held a paid event at the National Taiwan University Sports Center. Fans shelled out NT$700 (~$22 US) to attend their autographing and mini concert. Many fans felt that it was a little pricey, but to compensate, Fahrenheit joked, "Today is 'all you can touch.' You've paid $700, so it's time for you to 'touch' it all back!"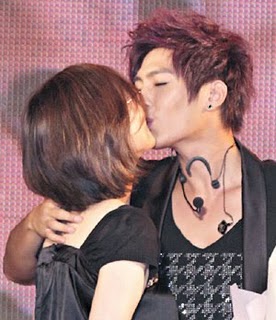 Aaron Yan's mom went on stage to show her support for him.
The venue was filled with 2000 fan girls excited to see their idols. When Fahrenheit performed their latest single, "Super Hot", they ensured hotness by satisfying fans with full nipple glory. Four lucky fans also got to interact with the Fahrenheit members on stage and "touch all they want." However, Wu Chun's fan was rather shy and kept her hands inches away. Calvin Chen couldn't stand watching them any longer and decided to hold the fan's hand and directly put it on Wu Chun's chest, which caused all the other fans to scream.
Calvin helps fan out to get a good touch of Wu Chun.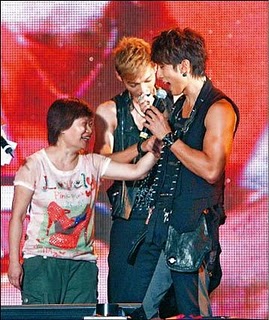 It's been long since Fahrenheit has released an album and many are concerned about whether Fahrenheit will disband after "Super Hot". Wu Chen and Jiro Wang responded, "We're so used to these kinds of news. Those who say that we won't have another album just wait and see!"
These boys always make me laugh. Ohhh myy Aaron is just ahh! lol no words to describe. Hmmm. I know he's really close to his family but mann him and his mom hahaha. Haha Calvin and his craziness
And Wu Chun's last comment!!! It's like saying to all the haters out there we're going to come back with another album just to spit you
---------------------------------------------------------------------------
Yesterday, popular idol group Fahrenheit held a fan meeting cum concert at the National Taiwan University gym. Even though it's an album pre-order event, the record company was bullish that Arron Yan, Jiro Wang, Wu Chun and Calvin Chen's charisma would bring in the money. The ticket sales alone accounted for 1.4M TWD, if you calculate 2000 fans buying 1 CD, you'll come up with 800,000 TWD. The album hasn't been released yet, but it's already giving an income of 2.2M TWD, that's assuming each fan only buys 1 album. So of course the actual value would be much higher than this.
Lucky fans go on stage to flirt with Fahrenheit
Even pre-order autograph signing events can make money, apart from the die-hard Taiwanese fans, overseas fans from Hong Kong, Singapore, Japan and Korea also flew in to attend the event. There was even a blonde from Finland who's in Taiwan for language studies who also came to chase her idols. Each ticket costs 700 TWD, and the venue's capacity is 2000 seats, all sold out. In order for the fans to have a "value for money" experience, Fahrenheit let lucky fans "flirt" with them. Arron Yan joked, "Welcome to 'all you can touch' event!" They let the lucky fans transform into their female dance partners, free to run their hands up and down the Fahrenheit members' bodies. The fan paired with Wu Chun was very shy, at first she didn't dare to touch him, and was teased by the other members to have "platonic love", then Calvin Chen just grabbed her hand to touch Wu Chun's chest, causing a lot of shrieks from the audience.
Calvin Chen trained his body for 3 months
One year and 8 months since the 3rd album's release, Fahrenheit showed their good figures. Calvin Chen said everyone was madly training for 3 months. Da Dong also said, "The muscles all came into place, it's just right." Every time they release an album, Fahrenheit is always faced with disbandment rumors, and that Wu Chun is flying solo. Yesterday Wu Chun said, "I'm used to it already, it's no longer awkward."
credit : Nastyhobbit@AF
As you can tell these are two separate articles. I just combined them together because I didn't want to make another post.
I never realized that their events would rake in that much money. I mean this is just a preorder event. This goes to show how popular our boys have become. Jiayoh!!!! Wu Chun going solo? I guess this is once again confirmation that our boys will stick together