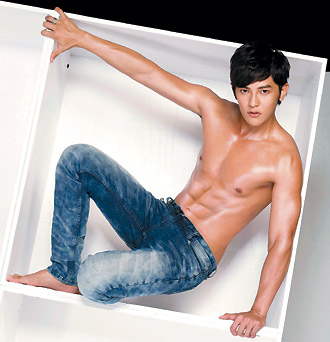 Since lead actress Goo Hye-Sun is back in Korea, only Jiro Wang is left to do the first round of promotions for their upcoming idol drama, "Absolute Boyfriend". As many of you already know, Jiro will be playing the naked robot who gets delivered to Goo Hye-Sun's home. The TV network anticipates that the intro scene will cause fans to scream in excitement. At the moment, they are still deciding whether to use pixelization or some sort of animation to cover up Jiro's main body parts.
Jiro revealed that the drama was filmed during the summer, which made him a "sweaty robot". Since robots were not supposed to sweat, the staff had to continuously wipe his body. Goo Hye-Sun also had to wear many long sleeves clothes. Jiro praised, "She also had to wear some sweaters. (I) was very worried that she would get a heat stroke," but Goo Hye-Sun expressed that she doesn't sweat a lot and can endure hot weather.
Jiro was posing for the drama poster a few days ago. Jiro, who was 180cm tall, had to pose inside a 100cm box. He said, "It was very difficult. I had to bend my arms and legs like I was practicing yoga. It was like a challenge to see how flexible I could be. Being a sexy male star isn't easy."
The drama is set to premiere on April 1st, following "Skip Beat!"
Written by: fufu on 3/05/2012 @ CpopAccess.com
Source: UDN, imok250911