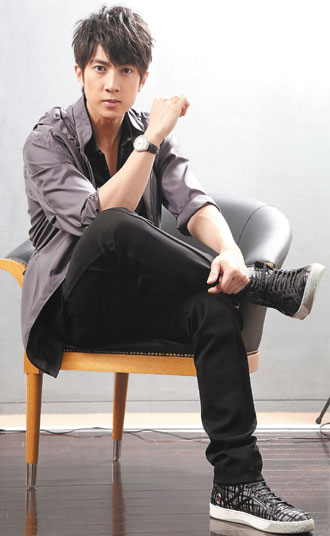 Translated by Cmiley
Source: UDN
Please link or credit properly if this is posted elsewhere.
Filming "14 Blades", has caused Wu Chun's life to open many windows. For talent; he's learnt horse back riding, knowledge of martial arts, for vision; having grown up in the hot climate country Brunei he has a memorable experience in Yin Chuan's yellow desert of rolling sand, for relationship; when Wu Chun's father visited him in China during filming, seeing him riding the horse handsomely, he asked initiatively to take a picture together, that was the first time since he's entered the industry where he felt "My father is proud because he has me as a son."
To enter the big silver screens has always been Wu Chun's dream, but because his road to his dream has been too smooth, it has changed his life plans. Two years ago, meaningfully hinted, did not want to be away from his family for a long time, even if it means not being an artists, leaving the entertainment industry wouldn't matter.
But after he accepted filming "Butterfly Lovers", "14 Blades", he said: "I'm very lucky, so I must take advantage of this opportunity." Movies has since given him enthusiasm towards his acting career, and has caused him to spread his star charisma, shooting star taste, he was wearing Lanvin with Piaget, making a pose shows his big class status.
Actually when filming "14 Blades", Wu Chun encountered many setbacks. While talking, suddenly he turned his sword towards the reporter; the distance was no closer than 1 cm, "Many martial arts scenes require close ups, so it's like this close, but the eyes can not blink." Since the beginning of filming just blinking the eye caused him with never ending NGs.
Everyday it was fighting, his whole body is bruised, requirements of the scene to have him fly over kicking a large flower vase, the ankle was swollen nearly a whole week, then another scene with archery, the gun powder is detonated earlier, he was in such pain that he was tearing non stop, in his mind thinking: "It's ok for me to break and arm or leg, don't let me blind, not able to see the world, I would kill myself."
With these hard work, Wu Chun he never tells his family, in the phone he always answers "very good", "not tired". But concerned about his family, Wu Chun said, in the past his father insisted his father dignity, their father son relationship was not close, but while filming in China for the 1.5 month, his father would call him in the middle of the night about 1-2 AM.
Shooting that day, Wu Chun set his eyes on the Piaget watch, the price $1520000 NT, everyone was guessing he wants to choose a present for his father when he returns to Brunei. Wu Chun actually is very interested in watches and jewelry, and has collected quite a collection; he actually has the lucky Piaget ring, once he heard that it's a "prosperity ring", his eyes brightened. And his love for sports, he also really likes the casual Piaget fashionable running shoes, looking back and forth continuously.