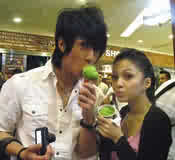 ChunHan love passionately, manager goes crazy
"ChunHanLove" burns brightly, during "Romantic Princess" promotion in Indonesia, Wu Chun and Angela spent time together between work. Angela's assistant privately said "My boss hasn't been this happy in a long time". Chun's manager was about to go crazy over the media's focus on "ChunHanLove". yesterday afternoon, she publicly warned Chun "You are not allowed to speak to Angela anymore!"
Friday night after promotion ended, Chun, Angela, George, Calvin, and Eric went to eat seafood. after they all ate and drank, everyone was in a good mood, and ChunHan's 3 part date also began. It started when they played rock-paper-scissor and gambled to eat spicy food, then they went to the mall and ate lovers' ice cream[Note* I believe the reporter meant they ate the same flavor], and lastly, they played snooker and went bowling.
Chun and Angela played and they were really happy and were in their own 2-person world. Chun often took out his camera to take pictures of Angela secretly, while Angela bought ice cream for Chun. When bowling, Chun acted as teacher and told Angela "you have to aim the ball straight", "tie your shoe lace". Angela took all his advices, and when she got a strike, they happily gave each other a high-5. they were so sweet that they didn't retaliate when the reporter said "You two are super loving together".
When they returned to the hotel, Chun and Angela lived right across from each other. everyone gathered in one of the room to sign postcards, and Chun finished first and returned to his room, but he later returned and waited until Angela finished signing before leaving, he most likely wanted to spend time with his rumored girlfriend.
Due to Chun and Angela's closeness, Angela's promotional team and Chun's manager weren't very happy. Angela's promotional team refused to give a response, and when they were forced, they said "as long as she likes it", but then quickly explained "when Angela promotes her album, she is usually by herself, so she's really happy to be with everyone this time".
Chun's manager protested "The reason that we let the media take pictures is because there's nothing going on, so don't make up stories anymore" But she then turned her head and warned Chun and told him not to talk to Angela anymore. As a result, when the cast arrived backstage at the fan meeting, Chun intentionally stayed far away from Angela, and again they pretend to be strangers.
Translated by : ChocoJirox and a.l. @ http://asianfanatics.net
Credit : a.l. [Alle] @ AF.net
=======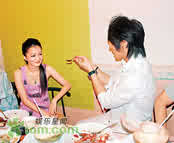 Wu Zun and Angela Spend Have a Nightly Swim, Go Bowling
The cast of Taiwanese drama Romantic Princess is in Indonesia promoting it. In Taiwan, Wu Zun and his rumoured girlfriend Angela Zhang are unable to be meet like most people. George Hu and Li Ang Lin comment that both of them arent tired even after finishing their filming. When Angela suggests that they go bowling and eat ice cream, Wu Zun totally agrees with her. Because they had a nighttime swim, there were lots of bodyguards and workers with them, but because Calvin wasnt feeling well, he left early to go to the hotel and sleep.
When she went bowling, Angela had a good score of 132, which beat Wu Zun's score. Angela's assistant commented that she hadn't seen Angela this happy for a long time. Wu Zun and Angela take pictures of each other, and even dab ice cream spots at the same time, as if they have a secret understanding. Even though their two managers were glaring at them, they were lost in their own world.
translated by : cristL@asianfanatics.net
source : http://ent.tom.com/2007-11-04/000E/04441124.html
--------------------------------------------------------------------------------
Gah so much ChunxAngela News.... and we still don't know anything really